The Importance of Proper Design for Your Private Screening Room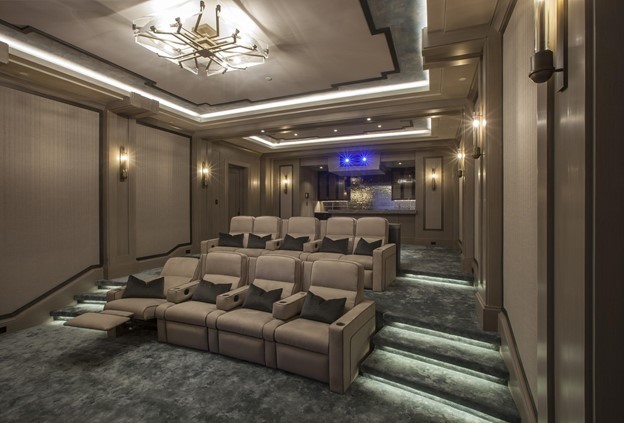 Every Aspect Ties Together for the Ultimate Home Theater
The Future Home team has designed and built some of the most luxurious private screening rooms in Beverly Hills, CA and across the globe. If there's one piece of advice we could give you that has contributed to our success, it would be to consider all of the details of a proper design before starting to build your screening room.
Beyond the movie and display, the viewing area, sound system, image projection, seating arrangement, and even the lighting and shades, play a crucial role in your enjoyment. Keep reading to find out what you should look for in a few of these key areas.
SEE ALSO: Top 3 Things to Look for When Installing a Private Cinema
Sound Design
The first secret to an immersive audio experience in your private screening room that makes you feel like you're in a commercial movie theater is to avoid relying on the speakers from your TV screen or a soundbar. Investing in high-quality speakers designed to help you get lost in a film gives you the cinematic sound you crave.
When it comes to home theater sound systems, best practice is to install two front speakers, two back speakers, one center speaker, in-wall speakers, and a subwoofer. Speaker placement is critical to having high-quality sound no matter where you're seated in your screening room.
Proper Technology
Of course, the technology you use can make or break the atmosphere in your private screening room. There are many displays on the market for you to choose from, including OLED TVs, LCD TVs, Ultra HD TVs, and even video projectors and screens.
Finding out which option is best for you ultimately comes down to personal preference mixed with what will work best in your screening room. Maybe you have the notion that the biggest screen possible will help you enjoy your favorite films, but that's not always the case. Surprisingly, room size and furniture position play a role in which viewing size is right for you.
Seating
It's easy to get lost in the innovative technology that exists today for home theaters, but don't forget about the power of the right seating! Your seating options and arrangements play a crucial part in your enjoyment of a screening experience. The key to finding the perfect seating is finding options that are the right size for your space, accommodate the specific needs of family and friends that will be enjoying your private screening room, and won't disrupt acoustics.
You want durable furniture that's built with comfort and style.
At Future Home, we understand better than most that your movie viewing experience is crucial, and every aspect of your private screening room needs to be perfect. That's why we create designs considering your personal needs and preferences. Reach out to us for a no-obligation consultation by giving us a call, filling out our online contact form, or chatting with an expert below. We look forward to bringing your vision to life!
Stay Informed
When you subscribe to the blog, we will send you an e-mail when there are new updates on the site so you wouldn't miss them.