Have You Seen Samsung's Wall TV?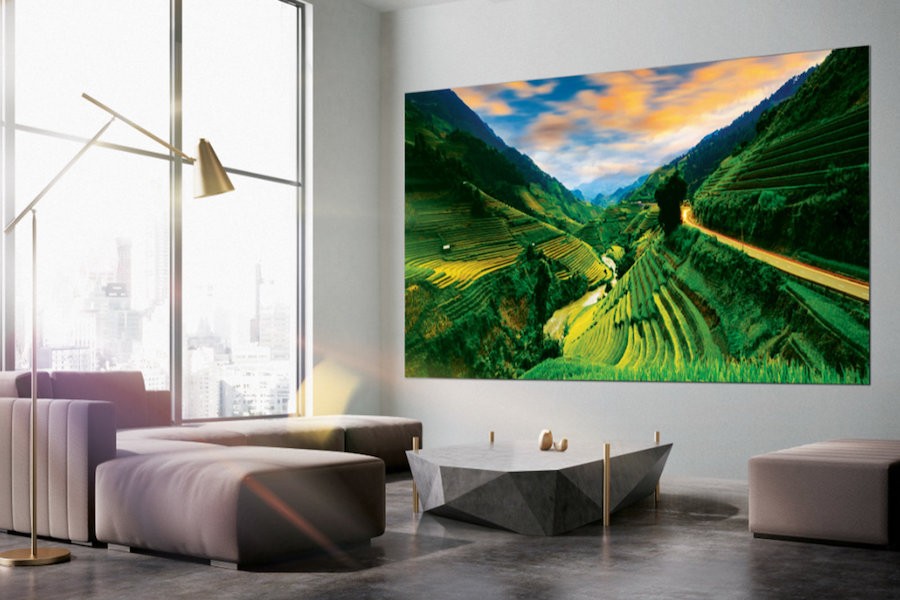 Bring Luxury Living to Your Bel Air, CA Home with The Wall 
Have you heard of The Wall? No, we're not talking about the Pink Floyd album—it's Samsung's luxurious wall-sized TV that CNET called "the biggest screen we've ever seen." The Wall's shape is customizable to fit any sized wall, but the largest version measures up to over 24 feet!
But besides its size, what can The Wall offer to your Bel Air, CA estate? The screen was launched in 2019 and is now available to order for residences. We dive into the modular LED technology and creative ways to use the screen below. Continue reading to learn more!
SEE ALSO: Step Inside Your Favorite Films with a Dedicated Private Home Cinema
How The Wall Works
Samsung's massive new screen is a modular LED display, which means it transfers micrometer-scale LEDs into LED modules. The result resembles almost microscopic lights on wall tiles. The panels are mounted together as a uniform canvas so that you can't decipher the separate pieces. Then once plugged in, the tiles will visually appear similar to a premium QLED TV, with pure blacks and vivid colors. Remember the ultra-dark Game of Thrones episode that fans complained about being hard to see? That scene will look excellent on The Wall. AI picture enhancement makes every movie scene look as filmmakers intended it without color distortion. Its slim depth mounts flush with any surface, as flat as a mirror on your wall.
Home Theater or Personal Expression
Since The Wall can be built to a massive scale, it would make an excellent choice for a home theater in place of a projector screen. But the customizable shape and size also make the display a sophisticated centerpiece for personal expression. Install The Wall at the end of a hallway and play reels of nature scenes, or boldly install the screen on an entire wall of your media or living room. The Wall can be designed according to spatial needs and your aesthetic desires, complementing any room's decor. Showcase artwork, photography, or video clips for an awe-inspiring display that will excite your household and guests.
Want to see Samsung's The Wall for yourself? You can find The Wall in Los Angeles at Future Home Theater, Bel Air's destination for home automation and private cinemas.
Give us a call at 310-559-6555 to learn more, or submit an online form here and we'll be in touch.
Stay Informed
When you subscribe to the blog, we will send you an e-mail when there are new updates on the site so you wouldn't miss them.