Take Your Home Theater Installation to the Next Level with Smart Automation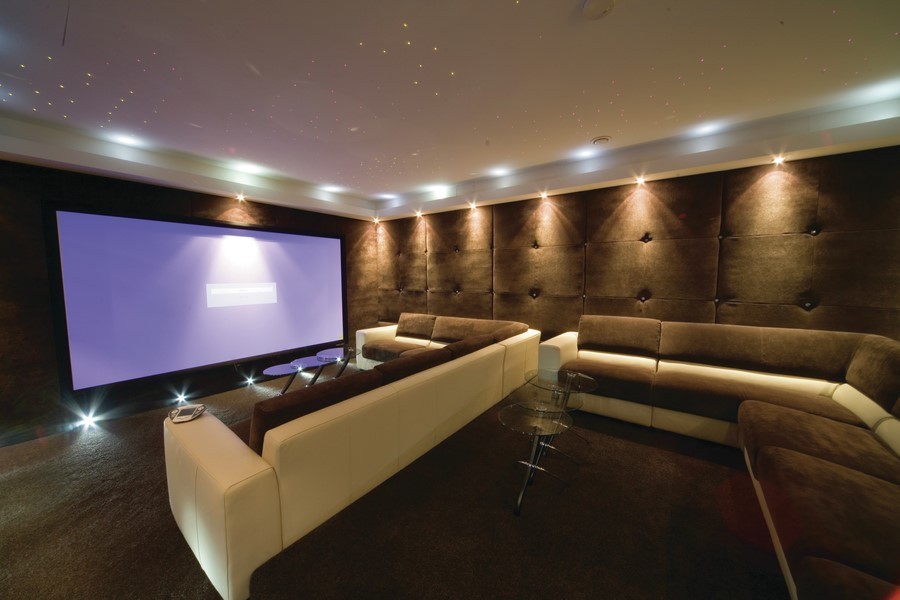 Why the Best Theaters are More than Seats and A Screen 
A home theater should be fun and easy to use, inspiring as much use as a TV would. While anyone can go to the store and buy a flat-screen or a projector, you'd be limiting yourself to stop there. If you're curious as to what a luxury home theater installation includes, continue reading to see how your Beverly Hills, CA home can transform your viewing experiences to at-the-movies magic.
SEE ALSO: How to Elegantly Tie Your Home Theater into Your Unique Home Décor
Smart Control
In a complete home theater, there are many different parts—a receiver, surround sound speakers, subwoofers, the projector, and the screen. If every time you want to use your cinema, you need to fiddle around with the correct settings for each component, that's not ideal. That's where a home automation system saves the day. By integrating your home theater into a system like Crestron, you'll be able to turn on the entire theater in just a few swipes on your tablet or smartphone. Lower the projector, turn on the speakers and select your media all from the same place. You'll no longer need to endure trial-and-error with several remotes; with Crestron, it's all in one.
Hidden Speakers & Screen  
There are countless ways to approach a home theater. Maybe you'd like to build a Golden Age-themed theatre with rows of vintage folded seats, or an ultra-modern IMAX escape. But perhaps you'd rather use the space for multiple purposes as a media room.  If you'd like to play pool and catch up with friends without the distraction of a cinema display, consider hidden speakers and screens. From your smart control system, you can instantly lower your screen from the ceiling or raise it from the floor. In-wall and in-ceiling speakers are a minimal and sleek way to include technology without distracting from your home décor.
Find the Right Lighting
Imagine—you're settling into your movie, and just like at a local cinema, overhead lights will slowly dim as tiny track lights blink on. With lighting incorporated into your Crestron system, you can easily create settings like "Movie Mode" that will prepare the space for viewing. If there are windows in your theater that let in undesired ambient light, motorized shades will automatically lower, too. A professionally installed home theater is the next step that will take it from a room filled with gadgets to your personal paradise.
Ready to upgrade your viewing experiences? Beverly Hills, CA's home theater experts Future Home can help. Call us at (310) 559-6100, message a member of our team below, or fill out our online form here.
Stay Informed
When you subscribe to the blog, we will send you an e-mail when there are new updates on the site so you wouldn't miss them.